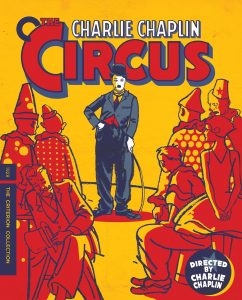 While it would be unfair to refer to Charlie Chaplin's The Circus as overlooked, it certainly isn't discussed as often as the director's other works, City Lights (1931) or Modern Times (1936), which are both better films, or The Gold Rush (1925), which isn't. The 1928 feature has delights all its own, and while it probably leans heavier on broad, physical comedy more than any of the director's other full-length movies, it's not without a dose of social commentary.
Chaplin's iconic Little Tramp character is front-and-center, falsely accused of being a pickpocket and finding refuge in a traveling circus, where he inadvertently becomes the star attraction. Per usual, he falls in love with a rare beauty, this time the horse rider Merna (Merna Kennedy) and goes out of his way to win her heart, only to be stymied in the end by circumstance and position.
The plot is standard fare where Chaplin's films are concerned but the elaborate sight gags are not. Running a tight 70 minutes, one hilarious set piece buts up against another as the tramp finds himself contending with a sleeping lion after stumbling into his cage, a scene in which our hero is trained in the fine art of paste slapping by two veteran clowns and the hilarious climax where is Chaplin trying to navigate a perilous tightrope walk while a group of small monkeys swarm about him. The imagination behind these gags and the precise execution of them is a sight to behold.
This new Criterion edition contains a bevy of extras, including newly discovered outtakes, an entire scene that was filmed and never used, an archival interview with Chaplin as well as a new one with his son Eugene, and two documentaries – In the Service of the Story, which focuses on the film's visual effects, and a 2003 feature, Chaplin Today: The Circus, which deals with the movie's lasting impact. All in all, this extensive collection of background material gives us invaluable insight into the mind of this comedic genius, one whose timeless work will never fade from view.