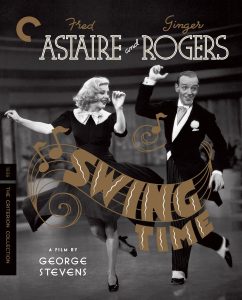 One of the things I always admired about director George Stevens was his ability to excel in any genre. Few directors had such a diverse roster of films with Gunga Din, Penny Serenade, The More, The Merrier, Shane, A Place in the Sun, Giant, as well as a number of early Laurel and Hardy shorts to his credit. Throw him any script and a classic was likely in the offing.
There happens to be a musical in his filmography and it's a delight. Arguably the best of the Fred Astaire-Ginger Rogers movies, Swing Time is about…well, it really doesn't matter what it's about as long as the two stars are given the opportunity to prance about to the delightful music by Dorothy Fields and Jerome Kern. Pick Yourself Up, The Way You Look Tonight, A Fine Romance and Never Gonna Dance would be highlights in any other film but to have them all present in a 103 minute movie is an embarrassment of riches.
Also included is the Bojangles of Harlem sequence, a tribute to Bill "Bojangles" Robinson that finds Astaire dancing with before a screen upon which three huge shadows of himself has been projected. It's a technical tour-de-force that unfortunately finds the actor in blackface.
One of the fabulous extras in this edition is an examination of this sequence by critic Mia Mask. Also included is a fascinating documentary In Full Swing which breaks down the film's precise choreography, while a new interview with George Stevens Jr. offers invaluable behind-the-scenes insight and anecdotes that provide a fresh perspective concerning the long hours and hard work that went into making this classic. Archival interviews with Astaire, Rogers and designer Hermes Pan round out this glorious tribute to studio filmmaking at its finest.