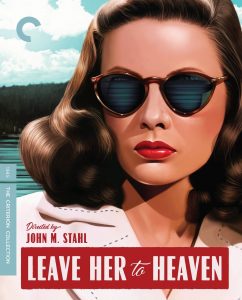 Gene Tierney didn't have the might of MGM or Warner Brothers' publicity departments behind her to make her a star on par with Greta Garbo, Joan Crawford or Bette Davis.  Many critics claim she also lacked the necessary talent to be mentioned in the same breath as those luminaries. Yet, she did have something, that "It" quality that made her an object of fascination for viewers, drawn in by her unique beauty and piercing aqua-blue eyes that threatened to bore through anything that crossed their path. That she seemed slightly aloof, a bit removed from all that was going on around her only added to her allure; there was a mystery about her that contributed to her popularity, a facet of her persona one suspects even she didn't fully understand.
Though her career lasted nearly 40 years and included over 40 credits, there were only two occasions when Tierney was used in a way that capitalized on her unique star quality. Otto Preminger cast her in the title role of Laura (1944), a character the viewer is introduced to via a portrait of her that comes to haunt detective Mark McPherson (Dana Andres) who falls in love with her as he investigates her murder. He's not the only one who's fallen under her sway and after nearly an hour, when Tierney shows up in the flesh, it's immediately apparent just what all the fuss is about.
Laura was a hit for 20th Century-Fox and they capitalized on this by casting her in Leave Her to Heaven, a quirky film noir that finds Tierney in the role of Ellen, a charming young woman whose beauty hides a dire secret.  After meeting cute with writer Richard Harland (Cornel Wilde, another oddball, almost star of the era) in an Art Deco smoking car that will have you longing to travel by train, a whirlwind romance takes place and the couple are married in record time.  As with most things that are too good to be true, this union proves disastrous as Ellen begins to display a psychotic neediness that leads not just to the ruination of the marriage but to suspicious deaths and murder.
While this has been classified as a film noir, this technicolor production eschews the shadowy world of deception and repressive that were part and parcel of Double Indemnity, Out of the Past and the like. No, director John Stahl allows this nightmare to play out in the blinding light of day, making Ellen's behavior all the more horrific.  She makes no effort to hide who she is, her possessive nature taking on a nightmarish quality that make Barbara Stanwyck's Phyliss Dietrichson and Jane Greer's Kathie seem like girl scouts. The visual approach and Ellen's extreme actions were far ahead of their time when the film was released in 1945 and is one of the reasons the movie continues to fascinate today.
Adding Stahl's film to the Criterion Collection is a no-brainer and a necessary addition to any film noir collection. The 2K digital restoration allows Leon Shamroy's cinematography to be appreciated in all its glory, the Technicolor compositions popping at every turn, so much so that many scenes look like paintings come to life. The clarity of the image also allows you to appreciate Maurice Ransford and Lyle Wheeler's art direction, a collection of elaborately rendered, expansive sets that Stahl thankfully lingers on. If these stylish digs don't make you long to live in the 40's, you simply have no taste. Of course, it's the allure of Tierney that will draw you in, an aspect of the film that's explored in author Megan Abbott's pointed, entertaining essay. She's never looked better than she does her.  Her Ellen is one of cinema's most monstrous creations – a sphinx – icy, impenetrable, and unforgettable.