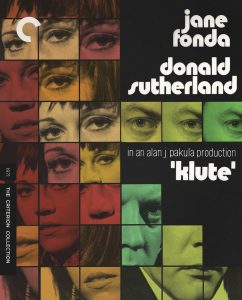 There's no question that Alan J. Pakula's Klute is a dated piece of cinema, a film very much of its time what with its over-earnest nature and self-conscious style. But that doesn't mean that it's not without its merits as it is an early form of the woman-in-peril thriller that were far too prevalent in the 80's and 90's, and it does feature a progressive portrayal of a single woman, struggling to achieve and maintain a sense of independence in an arena where she's not welcome.
Looking for a friend that's gone missing, private detective John Klute (Donald Sutherland) travels to New York City, seeking answers. His only clue is a letter addressed to prostitute Bree Daniels (Jane Fonda) found in the missing man's possessions. She's far from helpful once he tracks her down but eventually opens up once she realizes the detective is sincere and lacks an ulterior motive. Klute's investigation ultimately leads him to believe that two other prostitutes were killed by an abusive John and that Bree may, in fact, be his next victim.
Though it may seem tame by today's standards, the fact that Bree is the focal point of the film was groundbreaking, as were scenes showing her consulting a psychologist and smoking pot. Fonda was initially reticent to take on the role, asking Pakula to release him from her contract. He refused and, as they say, the rest is history. Fonda's frank approach stood in stark contrast to the light comedic roles she was known for and her subsequent winning of the Oscar for Best Actress was much deserved.
This new edition from Criterion features a documentary about Pakula and his impact, a short feature, Klute in New York featuring behind-the-scenes footage and, the gem of the package, a new interview with Fonda, conducted by actress Illeana Douglas. Her insights and anecdotes prove invaluable in understanding the movie and the effect.