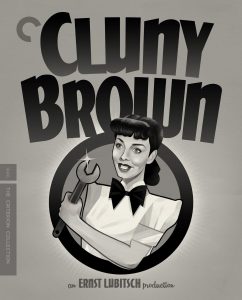 Was there ever a more charming actor than Charles Boyer? Other than Cary Grant, you'd be hard-pressed to name another performer who sported the good looks, suave confidence and refined humor of Boyer, a French ex-pat who found fame and fortune in Hollywood after immigrating in the early 1930's. His film career lasted into the '70's, debonair to the end.
Director Ernst Lubitsch's final film, Cluny Brown is arguably the actor's finest post-war film, a lighthearted comedy with a biting social edge concerning a Czech refugee (Boyer) who falls under the sway of the delightful title character (the luminous Jennifer Jones), an independent woman who longs to be, wait for it, a plumber. She's a free spirit who's fighting the constraints put upon her by not only society but her uncle as well.
Circumstances and coincidences that can only occur in a Lubitsch film bring the two together in an upper-crust English estate. The rhyme and reason of it all is of no consequence as what matters is the delightful interplay between Boyer and Jones, as together they attempt to navigate around societal mores that would keep them apart. The repartee between the two is a delight and the double entendres that fly concerning Cluny unclogging backed-up pipes are a prime example of Lubitsch's special brand of wit.
This quality is the focus of the documentary The Lubitsch Touch which is part of the extensive supplements in this edition. A radio adaptation from 1950 with Boyer and Dorothy McGuire is included as is a separate audio track featuring critics Molly Haskell and Farran Nehme which offers valuable insight into the film's production and Lubitsch's unique approach.
Looking pristine and sharp thanks to a 4K restoration, Criterion's Cluny Brown is a necessary addition for any home video enthusiast who cherishes cinematic wit and charm, which is in short supply today.