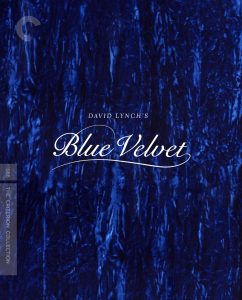 There are few films that have the visceral impact that David Lynch's Blue Velvet does. I still vividly remember my first time seeing it at Chicago's now defunct Fine Arts Theater. A slow sense of dread built among the audience, hundreds of strangers, alone in the dark, all waiting for the next surprise Lynch had up his sleeve, all of us sure that we didn't want to know what it was yet eager to find out.
The obvious precursor to his seminal television series Twin Peaks, Blue Velvet examines the underbelly of small-town America, its citizens' perversity and secrets laid bare as Lynch gleefully rends its wholesome image to shreds. Kyle McLaughlin and Laura Dern are Jeffrey and Sandy, the Ken and Barbie of the piece who get involved with a mystery involving local singer Dorothy Valens (Isabella Rossellini) and the kidnapping of her young son. Sinister machinations are at play involving police corruption, a illegal drug deal and the troubled Frank Booth (a career-best performance from Dennis Hopper) who tortures Valens, forcing her to comply to his perverse sexual behavior.
This new pressing from Criterion is a prime example of why the company's efforts are invaluable to film scholars and fanatics. Not only has the movie undergone a 4K restoration and features a 5.1 DTS-HD audio track, but the supplemental materials concerning the film are unparalleled. 53 minutes of deleted scenes and alternate takes are included, as are two documentaries – Mysteries of Love made in 2002 and It's a Strange World: The Filming of Blue Velvet, a brand new film that offers new interviews with the key players. This proves to be particularly insightful, as the filmmakers and cast reflect on the lasting impact of the movie and how it affected their respective careers.
Throw in an interview with composer Angelo Badalamenti and a making-of feature Blue Velvet Revisited, composed of footage taken while the film was in production, and you have an invaluable record of the making of a cinematic masterpiece that will continue to resonate for years to come.