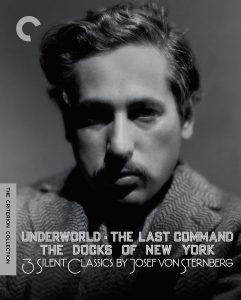 When director Josef Von Strenberg's name is mentioned, the image of Marlene Dietrich immediately comes to mind, the actress either festooned in flowing boa scarves or sporting a tuxedo and top hat. Yet, before he took the actress under his wing, the filmmaker had put an indelible mark on the world of cinema with his rich visual style and hard-edged narratives.
The Criterion Collection's Three Silent Classics by Josef Von Sternberg contains a dynamic trio of films that display the director's progressive look and humanistic stories.
Underworld (1927) is often cited as the beginning of the American Gangster film, a hard-boiled look at a crime boss (George Bancroft) who finds himself trying to keep his girl (Evelyn Brent) happy while dealing with a rival who's making moves on his territory. Many of the conventions of the genre are present here as the screenplay by journalist Ben Hecht won the very first Oscar for Best Screenplay at the inaugural Academy Awards Ceremony.
The Last Command (1928) is a heartbreaking look at one man's emotional downfall as Emil Jennings stars as a former Russian general who finds himself cast as an extra in a Hollywood war movie. An insightful psychological character study, the movie also pokes fun at the Tinsel Town artifice that has seduced so many would-be stars. Jennings won the first Best Actor Oscar for his dynamic turn and it is well-deserved as its introspective nature points towards a more complex acting style that was to become the norm in the 1950's. Look for a very young William Powell in a supporting role.
The Docks of New York (1928) plays like an intriguing counterpoint to On the Waterfront. The director re-teams with Bancroft who stars as a stoker who falls hard for a dance hall girl (Betty Compson), much to his ultimate dismay. The film's stark look and the expressionistic sets make for a visually dynamic movie that never ceases to entertain.
Not only does this Criterion edition go a long way towards preserving these masterpieces, but the two video essays it contains focusing on Von Sternberg and his works are a revelation, a rich glimpse into a bygone era of film artistry. This proves to be an invaluable resource where the study of silent cinema is concerned.